Olev tailors lighting to your spaces' needs, to create emotions and well-being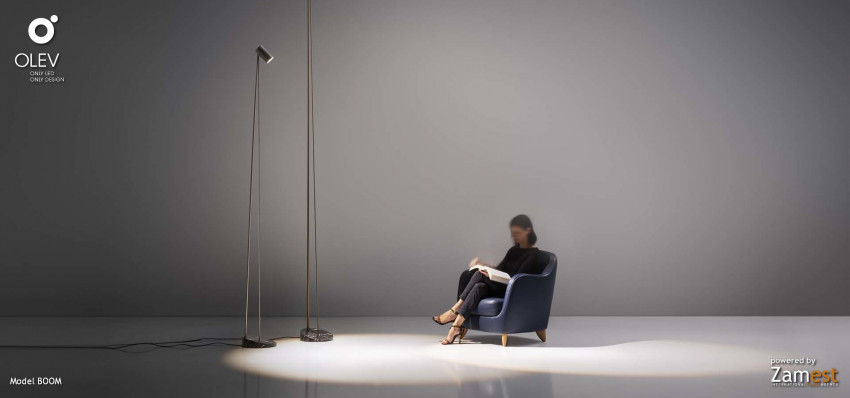 Visual comfort and personality: that's what makes a statement floor lamp.
And if they are the kind of benefits you look for in a floor lamp, probably Boom by Olev is the lamp that you are look for.
Minimal and slender lines define Boom's design.
The uniqueness of this floor lamp lies in its dimensions: it's available in 2 different heights: 2 or 4 metres.
The slender figure consists of 2 long carbon stems that support a cylinder-shaped aluminium spotlight.
The light is directed downward, and it feels very comfortable thanks to the glare-free optic.
Unlike most of the tall floor lamps, Boom by OLEV makes it easy and fast to direct the light where you need it.
The two stems are inserted into an inclined marble base that features a series of holes.
By sticking the front stem into different holes, the light will move closer or further away from the base. 
In the 4-meter version, Boom is ideal for illuminating environments with high ceilings, such as a hotel lobby.
In the 2-meter version, Boom is ideal when positioned next to a lounge chair in the living room.
Also, its length and versatility make it the perfect solution for illuminating an outdoor dining table.
The downward light will illuminate the center of the table, creating an intimate and relaxing atmosphere during an outdoor summer dinner.
Thanks to its height, Boom will keep bugs away from the people sitting at the table.
Boom by OLEV is available in 2 different finishes, but it can be customized on request.
Related Products
Looking for best partner for your next furniture works?