Workshop of Innovation and Traditions: The Real Italian Kitchen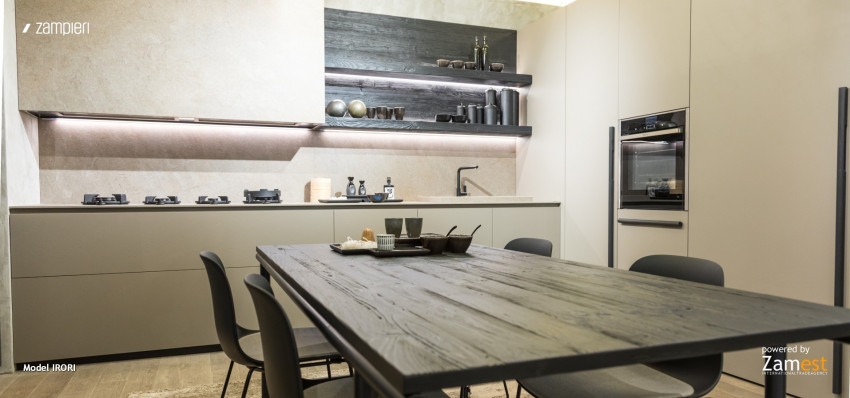 Modern kitchens must be able to follow the rhythms of our daily life, responding with maximum functionality to the needs dictated by the multiple activities we carry out in such environments. But they must also be beautiful, as the kitchen is the place where we not only prepare and eat meals, but also welcome guests or carve out moments in which to devote ourselves to our passions. It is the details, with high aesthetic and ergonomic content, that allow us to personalize our kitchen environment to the fullest.
Zampieri knows this well and makes modernity the distinctive element of its production.
The "Irori" kitchen collection is characterized by a refined concept inspired by the stylistic elements of Japanese furniture (Irori is the ancient Japanese home hearth) where the rhythm of the vertical and horizontal surfaces is compared with an unprecedented book of materials.

The doors are thin, only 8 mm, made up of an MDF panel plated with aluminum sheets and edged on all sides. Countless finishes available, lacquered (matt and glossy), veneered wood, special melamine and stone.
Irori's opening system is available with a special handle with a large circular section and for opening with a recessed handle, in different finishes, to best match each one's personal choices.
The Irori collection has ceiling bookcases made of 3 cm diameter painted metal tubing. The structure of the Irori bookcase is composed of tubular uprights of variable height, with adjustable leveling feet, with transverse elements of various modularities (60-75-90-120).
Irori is a mix of modern aesthetics and functionality.

Related Products
Looking for best partner for your next furniture works?