Specialists in Furniture and Lighting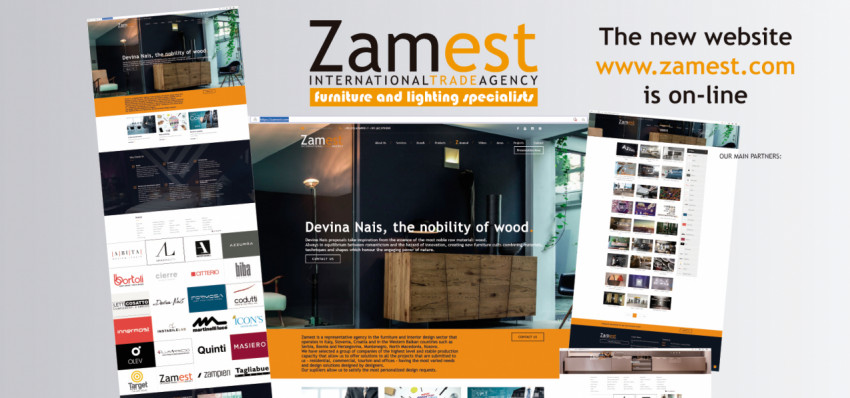 The difficult moment that the whole world is experiencing does not stop Zamest's commitment to being close to its customers and professionals who choose our products for the furniture, decoration and lighting of homes, offices, shops, hotels and restaurants.
The new official site zamest.com is on-line, totally renewed in its structure, graphics and contents. Not just a virtual showcase, but a portal where all users can interact to discover the products, technical solutions and services offered by Zamest.
A renewed interface, enriched with sections and insights, which guides dealers, contractors, designers and users in an intuitive way to discover the Zamest world: from the area dedicated to brands, to the area dedicated to products, from case histories and projects created with our products, to the information area we count, become a daily appointment for every user of the site who wants to keep up to date.
The home page has a horizontal image slider with the latest news and product focuses.
But, scrolling through it, you can see all the activities of Zamest, reaching in particular the pages dedicated to all the companies with which we work. The same pages dedicated to our producing partners can be reached from the horizontal menu under "Brands".
By accessing it from the manufacturers pages but also from the horizontal menu under "Products" it will be 

possible to see all the furnishing and lighting proposals that we are able to offer you, also knowing that we work with producers who are able at all times to customize the products to better adapt to the projects of architects and to the demands of the market and the most demanding customers.
The new Zamest portal also allows you to view and download the materials of the companies by accessing the reserved area "Presentation Area".
But in particular we are proud to inaugurate our "Z Journal" with which to provide information, that is, to provide information on market news, trends, solutions to furnish our buildings in the best way. We invite you to make it a recurring consultation appointment because we are sure it will be very useful.
No less important will be the "Videos" section which will allow us to share the beauty of our proposals. As well as for videos, all information and contents of the site will be constantly shared also in our social channels to which we invite you to access and register to stay in direct contact in real time.
The new site is totally Responsive, that is, it is able to automatically recognize the device used by the user, and allows different viewing modes whether you connect from a desktop, tablet or smartphone.
Happy browsign!
Related Products
Looking for best partner for your next furniture works?