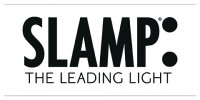 Slamp endless luminous possibilities stand as the genesis of a warm lighting world.

Slamp devotes itself to decorative design lamps, capturing the most current trends, drawing on the natural world, on architectonic, sartorial virtuosity and on artistic developments, transforming them into luminous objects, which are both suggestive and versatile. This is thanks to the use of a new generation of materials and special manual assembly of parts that, once put together, give life to a luxurious, figurative panorama.

ü SUSTAINABILITY
ü VERSATILITY
ü RESEARCH AND INNOVATION
ü BEAUTY

Looking for best partner for your next furniture works?