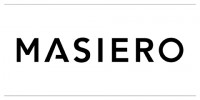 Top quality materials and manufacturing, a flair for technology and design and a prestigious brand name: these are the elements that combine to make MASIERO unique.
Masiero's collections express a perfect balance between technical know-how and sophisticated aesthetics, ranging from classic to contemporary products for indoor and outdoor use.
Exclusively Made-in-Italy production, high quality materials, the technical ability to develop tailor-made solutions and a passion for technology and design: these are the elements that combine to make Masiero unique. A family business with over forty years of history, Masiero produces high-end decorative lighting products, with particular attention to metalworking. Each product comes to life inside the factory, where the specialised production chain covers the entire cycle. The hand production and in-house management of the process make it possible to customise every single article, adapting it to the customer's needs.

ü REFINEMENT
ü CONTEMPORARY ELEGANCE
ü CLASSIC ELEGANCE
Looking for best partner for your next furniture works?