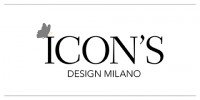 Contemporary sophistication, premium details!
For the furniture and accessories of the Icon's Milano collection, rigorous volumes with a decisive stroke are chosen, with particular attention to the research of materials and details. Wood essences, iron finishes, creative thickness. There is William Morris' modernism but also an impalpable fashion aura that makes the whole meaningful, current, attractive. It is Made in Italy, unequivocally. There are the technique, the function, the aesthetics. There are the hand, the head and the heart, as John Ruskin wanted. In a nutshell, there is the product. A particular and connoted product that decides to enhance its exclusivity. Ideas arise spontaneously, and new encounters will favour them; there will be new trends to interpret, sometimes ahead of them. Ideas, techniques and styles evolve.
Icon's Milan wants to become an interpreter and mirror of this evolution, placing aesthetics and function on the same privileged level. The Icon's Milano project was born from the desire to overturn the traditional furnishings. creating pieces that must be interpreted as an absolute piece of decoration. The furniture is no longer considered exclusively for its traditional use, but a predominant element that is capable of becoming the absolute protagonist of an environment, whatever that may be. Furthermore, the various textures, designed following the dictates of fashion and current trends, link our collections to specific moments. Finally, the possibility of absolute customization granted to architects and designers ensures that every piece of Icon's Milan can fit perfectly into any type of project.
Looking for best partner for your next furniture works?