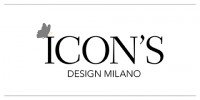 "Art is the encounter between man's hand, head and heart" (John Ruskin)

For the furniture and accessories of the Icon's Milano collection, rigorous volumes with a decisive stroke are chosen, with particular attention to the research of materials and details. Wood essences, iron finishes, creative thickness. There is William Morris' modernism but also an impalpable fashion aura that makes the whole meaningful, current, attractive. It is Made in Italy, unequivocally. There are the technique, the function, the aesthetics. There are the hand, the head and the heart, as John Ruskin wanted. In a nutshell, there is the product. A particular and connoted product that decides to enhance its exclusivity. Ideas arise spontaneously, and new encounters will favour them; there will be new trends to interpret, sometimes ahead of them. Ideas, techniques and styles evolve.
ü EXCLUSIVITY
ü UNIQUENESS
ü SOPHISTICATION

Looking for best partner for your next furniture works?