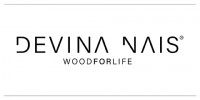 The essence of wood declined to contemporary furnishings.
Devina Nais proposals are inspired by the essence of the noblest raw material: wood. Always in balance between the romanticism of tradition and the risk of innovation, they create new furnishing cults by combining materials, techniques and shapes that honour the compelling power of nature.
Devina Nais follows all stages of production on a daily basis starting from the raw material to guarantee a unique and quality product. The production of Devina Nais is not in series: each piece is produced, packaged and finished in an artisanal way.
The raw materials are selected for their uniqueness. The workmanship, which recalls the techniques and meticulousness of the carpenters of the past, manages to give the proposed models a forgotten flavour, which evokes small and great joys to be shared.
ü EQUILIBRIUM
ü ESSENTIALITY
ü ROMANCE
ü SUSTAINABILITY

Looking for best partner for your next furniture works?