The essence of wood declined to contemporary furnishings.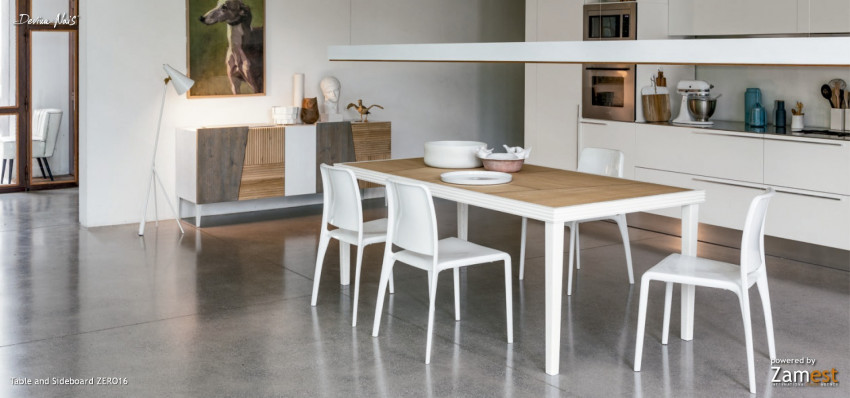 For whom prefers neutral colors and minimal style, total white furniture is the right choice, to be declined in different styles and solutions. A choice that has established itself among design trends in recent years, absolute white gives a fascinating allure to the environment, making it airy at the same time.
One of the peculiarities of this mood in terms of furniture is brightness. White as we know has the gift of reflecting natural light on surfaces, as well as optically expanding the environments, making them appear larger.
Total white, thanks to its flexibility, embraces different styles, from country to shabby chic, from industrial to Scandinavian, from classic to modern. But total white furniture cannot be improvised: the use of furnishings and decorations must be expertly studied, balancing the coldness by creating points of color and thus preventing the environment from being aseptic.
Interesting color contrasts can be used, with design elements in bold colors and give a distinctive mark, or choose wood or textiles, such as rugs and cushions to warm the environment.
The total white furniture is perfect for any environment, be it the kitchen, living room, bedroom or bathroom. Depending on the exposure of the house, it is sometimes highly recommended, to capture the reflected light as much as possible, especially for small rooms, such as studios or lofts, where it gives the illusion of expanding the spaces.
Thanks to total white furnishings, by studying small measures, we can create sober or very elegant environments. For a total white environment that recalls features such as simplicity and purity we can use natural fabrics and fibers such as linen for sofas, jute or coconut for carpets and resin flooring, very fashionable in recent years. For an elegant and refined environment, however, wide with precious materials such as crystal, stucco on the ceilings and boiserie on the walls, in marble and warm light lighting. For small rooms it is good to study interesting decorative cues on the walls, thus avoiding to weigh down the environment with additional furnishings. An example? Niches with ton sur ton wallpaper, or exposed total white bricks illuminated by spotlights to enhance the materiality of the elements.
Related Products
Looking for best partner for your next furniture works?