Target Point offers furniture for the living and sleeping areas: contemporary style, clean lines, fine details, international taste.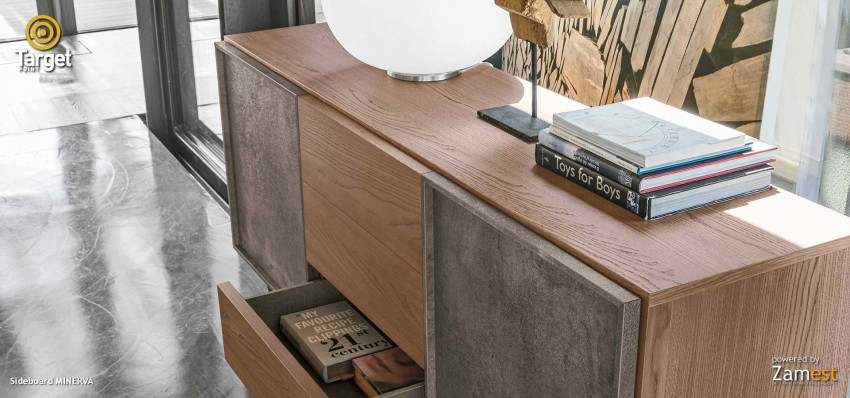 Target Point has presented the new Vintage Collection which is characterized by the use of materials, finishes, natural colors used for sideboards, cupboards, tables to be easily combined with chairs and accessories with discreet and relaxing colors in shades of brown, cream, taupe, gray and black.
In fact, the Vintage Collection of Target Point is dedicated above all to the creation of contemporary dining rooms environments with sober and comfortable features through beautiful and refined in every detail but mainly functional.
In fact, the Vintage sideboards and cupboards, balanced in the lines and with attention to detail, in addition to tastefully furnishing the home, perform the practical task of being strategic containers. If on the one hand, they lend their shape to showcase lamps, modern sculptures, vases with a contemporary design, on the other, being equipped with doors and drawers, they cleverly hide tablecloths, blankets, 
documents, kitchen services, in short everything you need, based on the room in which they are located.
If once the cupboards and sideboards were intended to be in the kitchen, today they are mainly located in the dining area or in large entrances, giving the spaces personality with their presence, but always maintaining practicality and comfort.
These are the main values of Vintage Collection: functionality, sobriety, durability. Simple and square lines prevail, the materials are innovative and the first quality woods. A rational design that does not neglect the need to optimize all available space and create more: both visually, thanks to the colors and the chromatic effects; both concretely, with closed container elements with doors and drawers.
The space multiplies, both horizontally and vertically. The dimensions are harmonious, in width, height and depth ensuring the correct capacity for the objects of the house.
Related Products
Looking for best partner for your next furniture works?