Give more value to your spaces with a new interpretation of a classic wallcovering, which mixes up ideas and styles, creating original, seductive and unique aesthetic-conceptual combinations.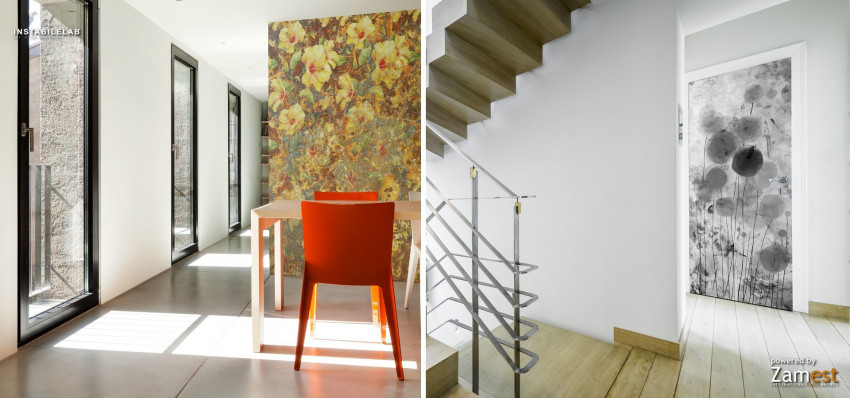 Passage room often overlooked, the corridor can prove to be a resource inside the house, if well furnished and decorate. In fact, it is possible to make the most of the existing space, even if cramped and oxen, to create a personal, bright, creative and in line with the style of the house.
But how to furnish a long and narrow corridor? To understand which furnishings to insert, it is necessary to keep in mind that: a free passage space of at least 80 cm must be left to allow easy passage from one room to another in the house. A 120 cm wide corridor allows the insertion of a hanger (if the corridor is located at the entrance), a console or a bench, or a built-in wardrobe, better if equipped with sliding doors. Even a bookcase, at most 30/35 cm deep, could furnish the hallway with style. But if the corridor is just 90 cm wide, alas we will have to give up furniture on the ground and opt for suspended elements with limited depth and concentrate all attention on the walls. 
A long and narrow corridor of these proportions is enhanced by: a good lighting project, a spot-on color on the walls, mirrors, paintings and frames, a small shelf on which to hang prints, small plants, a particular carpet or runner, the use of wallpapers, also applied on the doors. The wallpaper really allows the radical transformation of the corridor. You can dare with patterns and colors, or opt for a delicate decorative effect, such as the one shown in the photos of Instabile Lab collection "Doorpaper".
Doorpaper is a true vertical work of art. A door wallpaper made to measure, with the advantage that it can be replaced at any time. It has a linen effect finish. A selection of dedicated images can be printed on the Doorpaper door sticker and any other graphics in the catalog may be printed.

Related Products
Looking for best partner for your next furniture works?